Maternity
Group Prenatal Care
Treasure Valley Midwives is committed to providing a strong community for our clients. Group prenatal care is an innovative way of creating community while learning together about pregnancy, childbirth, postpartum and newborn care. Our unique and diverse clientele includes people who are new parents, new to the area, military families, repeat parents, or are simply in a different stage of life than the rest of their inner circle. Group prenatal care empowers you with a sense of community and support which can be deeply rewarding.
While participation is encouraged in the group, there is no obligation to share information that you wish to keep private. As the group begins to meld, many find that they become a group of close friends that form a true connection through shared experiences.
What to expect with exceptional Group Care
In our Group Care model, midwives facilitate discussions and present evidenced based information to the group. Clients are encouraged to participate in conversations which help them become more informed about pregnancy, and gain confidence in the choices they make for their families.
If you choose the Group Care model, you will have a combination of one-on-one appointments with the midwives and Group Care appointments throughout your pregnancy. The Group Care appointment allows time for an individual check-in with a midwife, a group discussion, activity, and refreshments.
We also host a reunion after all the births from the group have taken place. This is a time to share and meet the newest members of our community!

What are the benefits of Group Parental Care?
Excellent birth outcomes
Community building among families
Greater sense of empowerment and self-reliance
A 95% satisfaction rates among participants
Groups are more interactive and benefit from support
Time with your midwife to discuss your individual health needs

Prenatal Care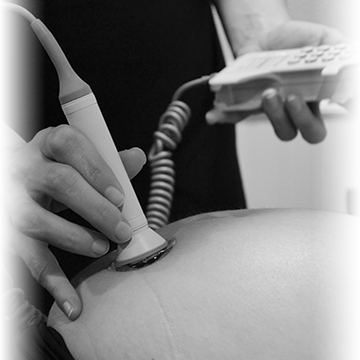 Routine prenatal care with Treasure Valley Midwives is all about informed consent. We want all of our families to be active participants in their pregnancies, making decisions that best suit their values and support their experience, by having all the information they need to make those decisions. Every appointment with your midwives is scheduled for an hour, so there is plenty of time for questions, (and we love when you bring your family and friends to appointments, so there is always plenty of time to visit). Every prenatal visit includes a standard clinical assessment of mother and baby including a blood pressure check, monitoring your baby's growth and position, lab work as needed and listening to your baby's heart beat.
Our clinic also has onsite ultrasound where we perform routine ultrasound for those who elect this service. Our ultrasound technology meets the strict standards of the FDA and limits ultrasound exposure to the baby. Each ultrasound is documented with pictures that you keep and can treasure as that little life grows inside you!
We want to make sure you are cared for at every step of your pregnancy, which is why a midwife is always available if you have questions or concerns. We don't want you to have to wait hours for a call back, we want you to have your questions answered promptly, because your peace of mind is important.
Birth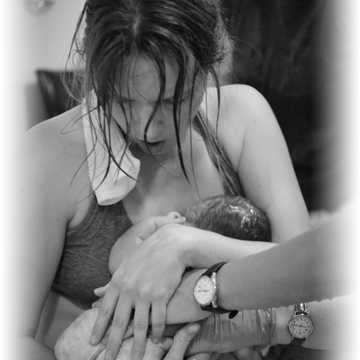 Births are attended by a team of two midwives and one student midwife. The team who attends your birth is determined by our call schedule, which you will have available to you. You may have anyone you wish present at the birth of your baby, whether that means an intimate moment with just you and your partner or your entire extended family! During labor we provide guidance and support to ensure that the labor is progressing normally for both mother and baby. Many non-pharmacological methods of pain relief are offered during labor including birth tubs, massage, heat/cold, position changes and lots of encouragement. Families, especially first-time parents, are strongly encouraged to use a doula. Doulas are experts in labor support and can be an essential part of your birth experience.
Early labor evaluations may take place in the comfort of your own home or at the birth center. We will admit you to the birth center or stay with you at your home when you are in active labor. Upon admission or arrival at your home we will check your blood pressure, pulse, temperature and listen to your baby's heart beat. We will continue monitoring your vital signs and your baby's heartbeat intermittently throughout labor so you are able to move and find positions that are comfortable to labor in.
The first moments after the birth of your baby are special, known as the "golden hour." Skin to skin contact, bonding and breastfeeding are encouraged and actively supported by your midwives. We are able to make sure that mother and baby are doing well with a minimal amount of disruption. A thorough newborn exam, including weight and measurements is done a couple of hours after the birth to make sure those first moments of bonding are completely yours.
Discharge from the birth center, or when we leave your home, happens generally between 4-5 hours after birth. We make sure that both baby and mother are stable before they leave the care of the midwives. Thorough instructions are given and a midwife is always available for questions or concerns from the moment of birth until we see you shortly at your home for your 24 hour home visit, and up until four weeks when we discharge your newborn into the care of their primary care provider.
Postpartum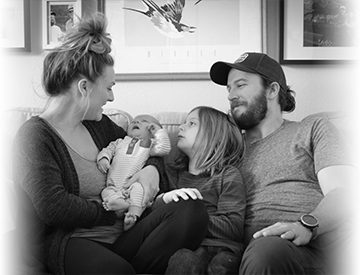 During the first week after the birth, we do two visits at your home to check on you and your baby. The first visit is done at 24-36 hours after birth, by the midwife who attended your birth to ensure continuity. The second visit is done by our on staff lactation consultant to ensure that breastfeeding is off to a good start. At these visits we also provide the Newborn Metabolic, Newborn Hearing, and Congenital Heart Defects screenings and breastfeeding help. The birth certificate for your baby is also submitted and a social security number is requested during this time.
We will continue to see you at the birth center for postpartum and newborn follow-up until 6-8 weeks after birth. The postpartum period is a journey through many physical and emotional transitions. This journey is an essential part of motherhood and the developing family unit. Your midwives are here to accompany you and support you through this journey.
Our midwives will provide normal newborn care for your baby for the first six weeks. All clients are asked to identify a newborn care provider for your baby in advance of your due date. If a concern arises, your baby will be referred to the pediatric specialist you have chosen for assessment and treatment.

Women may continue their care with us after the postpartum period, returning for annual exams, family planning and minor illness.
Hospital Transport and Safety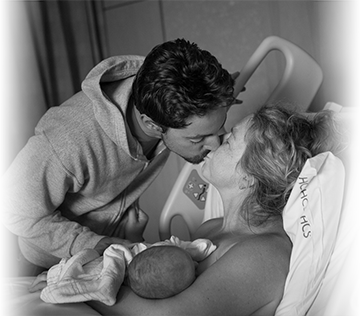 Treasure Valley Midwives works hard to develop and maintain relationships with medical experts in the field of maternity and newborn care. Our providers have a direct line with the laborists, maternal fetal medicine, and neonatologists at the hospital for any questions or problems that we may want to consult on. The safety of you and your baby is of the utmost importance.
Before, or during labor, if a hospital transport becomes necessary, the midwives will accompany you to the hospital and get you settled in, and will remain an active participant in your birth story. We will continue all of your postpartum care after baby has arrived, and be there to support you in the ways that matter most.
A hospital birth is sometimes the safest and necessary way to bring your child into the world, and our continued relationship with the hospital ensures that our clients have their wishes listened to and respected, and remain active in their birth decisions.