Newborn Care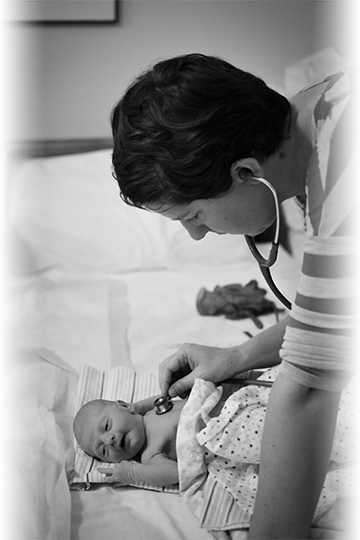 Did you know that your midwives are licensed to see newborns too? Licensed midwives and Certified Nurse Midwives are both credentialed to care for you and your infant up to 28 days after birth. We believe in treating you both in tandem as you navigate this new experience; if something is off in one, it's going to affect the other, and we want to be able to help you find balance.
You can rest assured that our practitioners are certified in neonatal resuscitation and have appropriate emergency supplies and equipment at every birth, including neonatal pulse oximeters. Our clients are counseled on and offered the Vitamin K and Erythromycin ophthalmic ointment for their newborns as part of our comprehensive newborn care. We believe in informed consent, in both pregnancy and when caring for your infants, and your voice is important in the decisions surrounding your infant's care.

Shortly after birth, families are seen in their home twice in the first week of life for well care exams as recommended by the AAP including, but not limited to:
Evaluation of vital signs, adequate nutrition, weight gain, and jaundice
Hearing screening, metabolic screening, and critical congenital heart defect screening, and
Lactation support and alternate feeding plans as necessary to ensure mother and baby are thriving

Newborns are seen at our office at two and four weeks of life for continued wellness care, including the second metabolic screening. During pregnancy our clients are counseled to find a pediatric health care provider that will be a good fit for their family's needs following discharge from our care. Providing quality care is our number one priority. In the event that a newborn requires care beyond our scope of practice, we will notify your healthcare provider and work in tandem to ensure the wellbeing of both mother and baby. We refer newborns to their chosen pediatric care provider for all recommended vaccines and circumcision, and infants are discharged from Treasure Valley Midwives at four weeks postpartum for continued care.